Q: What is Manybirds?
A: ManyBirds shows compressed videos of wild birds to anyone with a high-speed Internet connection. Birds are diverse, noisy, cute, and funny. See below for information about bird conservation. Click the logo to view the ManyBirds home page.

Q: What is Flash?
A: ManyBirds is adopting Flash media to show its videos. Whenever a species name is a link, a Flash clip should play. Although QuickTime lets you advance single frames with keyboard arrow keys, the Flash format yields smaller files for quicker viewing, displays clips that scale to any browser's window, and play in most Internet browsers (using a Flash plug-in). Flash is a Macromedia and Sorenson-created video format for web playback. ManyBirds shows Flash 6 and 7 video in the swf format. An swf file automatically plays in a web browser as it loads. The raw version of a swf file is a flv file, which is not recognized by Flash plug-ins but is played by YouTube and Google Video.

Q: What if I can't see the Flash videos?
A: First, avoid viewing videos with a dial-up connection. The measure of seconds refers to playback time when the file is completely loaded into your computer's cache. Longer videos will download more slowly. Second, check to be sure Flash is enabled in your browser's preferences or options. If that's not the solution, visit Adobe for comprehensive support and downloads. QuickTime is preferable for our older MOV and MPG links, but if QuickTime appears when you click on a species name, visit Firefox to correct the problem. Although that solution was designed for Firefox and Mozilla, the information may be helpful in other browsers.

Q: I'm trying to see the older clips; what software do I need?
A: Until 2006, ManyBirds offered 5-6 video formats for each clip to accomodate different media players and connection speeds. Most PC's have the Microsoft Windows Media Player, which can play the wmv clips. The mp4 and MP4 clips (h.264-based) can be played by QuickTime 7.1 (or newer) on fast PC's and Macs (about 1 Ghz or faster). Video iPods can play the mp4 clips. QuickTime lets you advance single frames with keyboard arrow keys. With frame advance, you can study the wings of a flying bird or butterfly. Microsoft Windows Media Player can advance single frames if you choose "View Menu", then "Play Speed Settings", then choose "Next Frame" or "Previous Frame" buttons (but only on XP systems or newer). Visit Apple if QuickTime is not in your Control Panel or needs updating. QuickTime is bundled free with iTunes software (which can transfer clips to Video iPods). QuickTime requires Windows 2000/XP/Vista or Mac OS X v10.3.9 or newer. Surf the Internet to try numerous other video players, including Windows Media Player for Macs. Video quality depends more on the severity of compression for Internet or DVD delivery than on the format or media player.

Q: How shall I begin? (this pertains to non-flash formats)
A: To view a clip, click one of the formats, e.g., wmv, mp4, or MP4. The clip may start playing. If that doesn't work, try downloading the file, so that a media player can open it instead of the browser's plug-in for the media player. To download, right-click (Windows) or control-click (Mac) a format, choose the download option "save target", "save link" or "download link", and pick a destination on your hard drive. Then, double-click the file where you stored it. Hopefully, a media player will open or play the clip. Whether you download a file or play it, allow about 3 minutes (DSL or cable) or about 3-30 minutes (dial-up modem) for your download. If you download the file, you can double-click it to play it. Your computer and/or Internet browser will try to choose a video player to show it. If and when the video player appears, you may need to press the play button to watch the clip (and turn up the sound). If no player or player-like plugin appears, you might try a different format, acquire different software, or reconfigure player settings in your browser or computer control panel.

Q: What if I'm having trouble? (this pertains to non-flash formats)
A: There isn't a cookbook answer to this question. If your computer won't play one format, try a different format. You might try changing the default players and plugins of your Internet browser in the browser's Preferences or Options. You can open the player program and change its preferences. You can also assign different players to formats of files that you download: First, right-click (Windows) a video file already on your computer and choose Properties or control-click a file (Macintosh) and choose Get Info. Second, choose a media player. Third, apply your changes to similar clips, and consider that this effect may only apply to a specific (and hidden) MIME type as well as, or instead of, the file name's extension. Confused? We all are.

Q: Can I collect and trade the clips?
A: You may collect, copy, distribute, and show ManyBirds clips so long as those actions remain in the realm of "fair use". Any such distribution should include and show the ManyBirds logo that concludes each clip. You may not sell the clips or charge a fee to show the clips. Web sites may provide links to the clips as long as the clips are credited to ManyBirds. Copyright laws apply to all recipients. ManyBirds retains longer versions of all the clips to demonstrate ownership. Businesses, individuals, libraries, schools, governments, tax-exempt nonprofit organizations, and other organizations are encouraged to use these copyrighted material as described here. The file name indicates the date and time of the clip.

Q: How can I videotape birds?
A: Some methods and equipment used for videotaping ManyBirds clips is described here, which was last updated Spring 2006. If you are interested, Swan will stabilize and load your digital video (DV or better) onto a ManyBirds Web page for $10 U.S. per second of footage. The e-mail address is below.

Q: Why use the Flash player?
A: Flash media downloads quickly, scales to the browser window, and needs software that is already on most peoples' computers.

Q: Why use the QuickTime player?
A: QuickTime software (standalone or Internet plug-in) provides special benefits for viewing ManyBirds clips. With QuickTime, your keyboard's left and right arrow keys can advance single frames on a Windows or Macintosh computer. With frame advance, you can study the wings of a flying bird or butterfly. QuickTime also enables you to quickly scroll ("scrub") through a clip by dragging your mouse along the progress bar. The QuickTime player is compatible with Microsoft Windows and is part of the Apple Macintosh. QuickTime plays MPG, MP4, MOV, and other formats. You may obtain free QuickTime software for Windows computers and instructions from the http://www.apple.com web site.

Q: Why use the Windows Media Player?
A: The Windows Media Player (standalone or Internet plug-in) is part of Microsoft Windows and is compatible with Apple Macintosh computers. The Windows Media Player plays MPG, WMV, AVI, and other formats. Single-frame advance can be achieved only on Windows XP computers through a multistep activation process (from View menu of Windows Media Player 9 choose Enhancement > Play Speed Settings > then click Previous frame or Next frame buttons). You may obtain free Windows Media Player software for Macintosh computers and instructions from the http://www.microsoft.com web site.

Q: Why use the RealPlayer?
A: The RealPlayer (standalone or Internet plug-in) is available for Windows and Macintosh computers. The RealPlayer plays MPG, MP4, MOV, RM, and WMV formats. It cannot advance single frames. You may obtain RealPlayer software for Windows and Macintosh computers and instructions from the http://www.real.com web site.

Q: What about other video players?
A: Numerous video players and plugins can be obtained from the Internet. Some depend on Windows Media Player or QuickTime already on your computer. Do an Internet search for "media player single-frame advance". Several video players are available for Linux and Unix computers. It's easy to try another player. Many are free, and many have special benefits for your particular needs. Of course, all have drawbacks, too.
A: Several species shown here will be gone by the end of the century if conservation isn't practiced by billions more people soon. Visit ClimateCrisis to calculate how your use of resources (and the resulting transfer of carbon to the air) can be reduced below that of your friends. Please visit The Nature Conservancy to learn how to protect lands and waters for many more birds. Surf the Internet for other conservation organizations that depend on your support.

Q: How may I contact ManyBirds?
A:
| | | |
| --- | --- | --- |
| | | |
| | | 598-78292-0598 |

Q: May I link to ManyBirds from my own Web site?
A: Yes, and you may use the following images: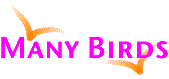 Transparent GIF, 169 x 79 pixels, 4 KB file size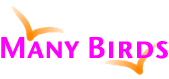 JPEG with white background, 169 x 79 pixels, 5 KB file size
©2006 by ManyBirds